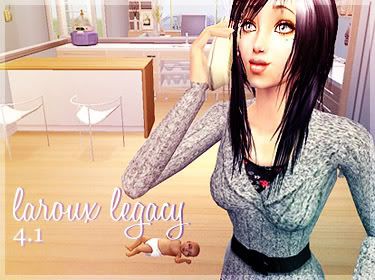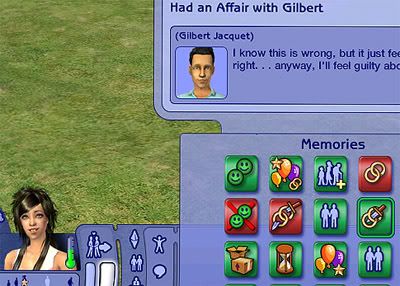 First of all, I'd like to point out that Ava was totally trying to bang Gilbert Jacquet behind my back. I was unaware that she'd even MET the guy.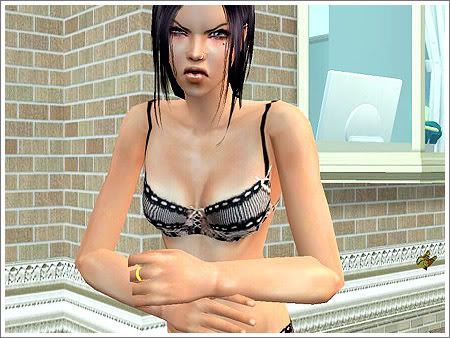 Ava's bitching as per usual. This is a special bitching, though, as she was standing in the middle of her yard in her underwear, crossing her arms and shaking her head at absolutely nothing.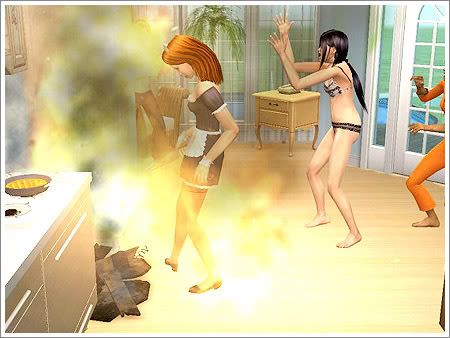 Maid: Oh, look at this pile of ash! I should clean this up. Wow, my toes feel a little hot... hey, I think it's spreading! WEIRD!




Flaming Maid: I STILL HATE YOUR FUCKING GUTS YOU CHEATING WHORE




Let's just say that housefires have become a very, very common occurrence lately.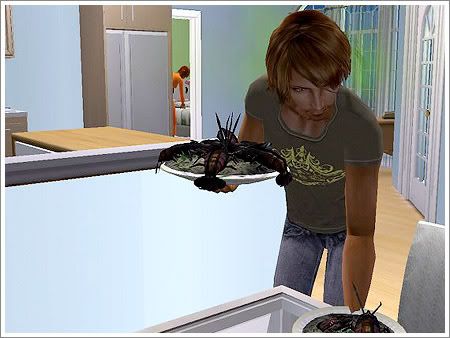 Keith likes to serve lobster thermidor all the damn time and waste a shitload of food that no one ever eats.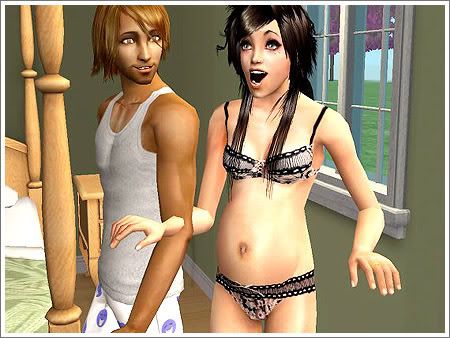 Ava pops. Keith looks possessed.




....I'm still not really not sure what to make of Ava's attraction to Kara.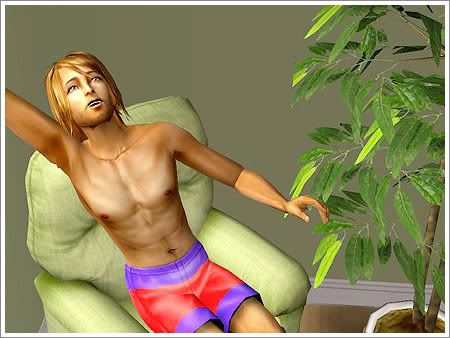 However, I am definitely sure that Keith is an annoying, lazy-ass loser who spends hours upon hours sitting in this fucking chair and yelling about its inability to recline.




Just 'cause you're a fatass doesn't mean you can't bring the ROCK!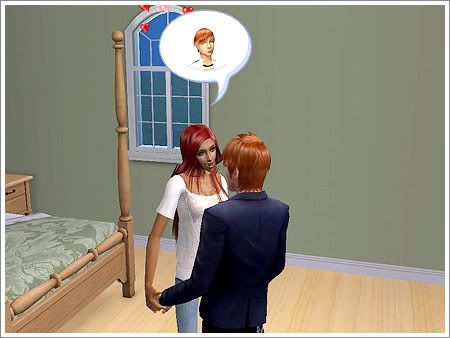 Kara: YOU'RE SOOOOOOOOOOOOOOOOOOOOOOOOOOOOOOOOOO HOT LET'S HOLD HANDS YAY




Here comes generation four!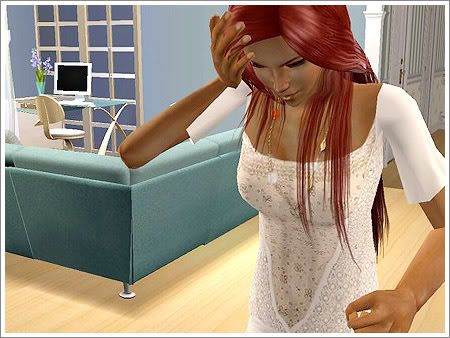 Kara's excited.




So is Ava.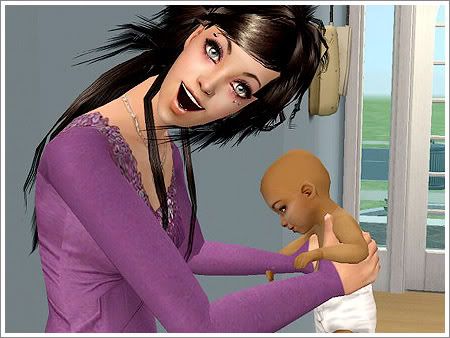 Really.




It's a girl with all of Keith's coloring. Her name is Alana. I know it looks like Ava's being all sweet and maternal...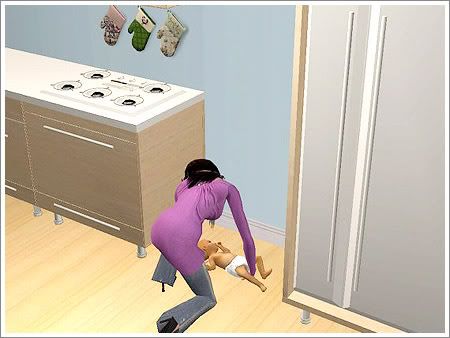 But she's really plopping the kid on the floor in that nice little nook where the counter burned down.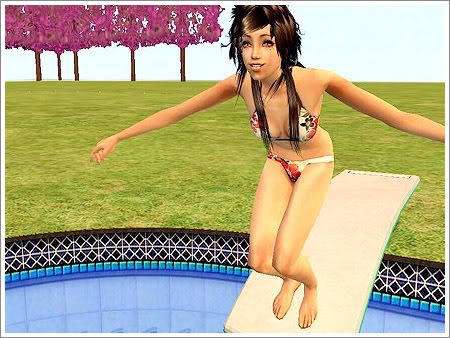 So she could go swimming.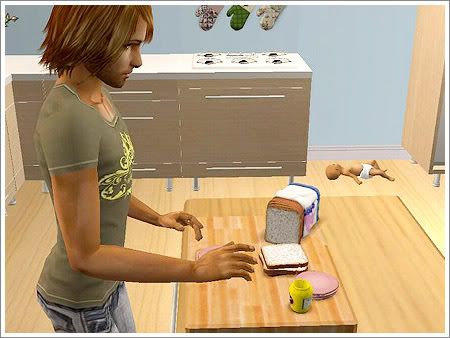 Keith very clearly had no objections to Ava's alternative parenting methods.




None at all.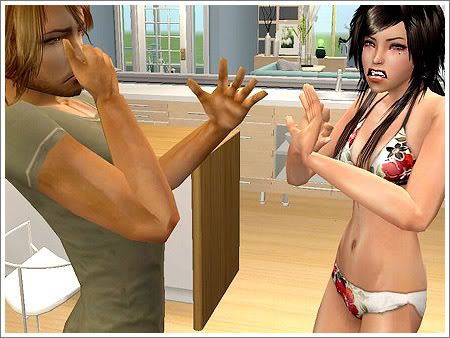 Oh, I don't know. Why don't you GIVE HER A BATH?




Thank God someone around here is competent.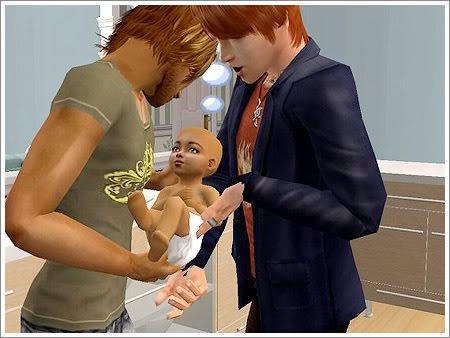 Competent enough to hand the kid off to someone else rather than plop her on the floor.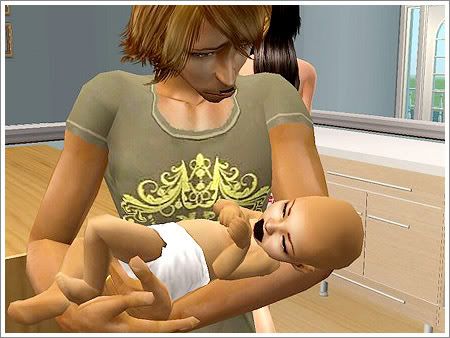 Though honestly, Alana may have been better off on the floor.




Must've been why Keith promptly dropped her there and went about his business.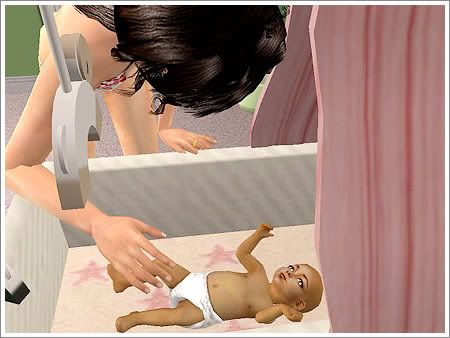 Ava did something right for once and actually picked her up and put her in the crib. Progress! Oh happy day!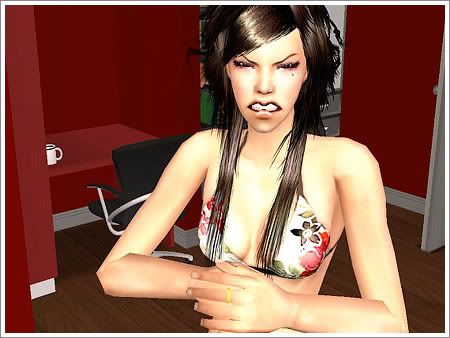 She's still the baddest bitch, you know.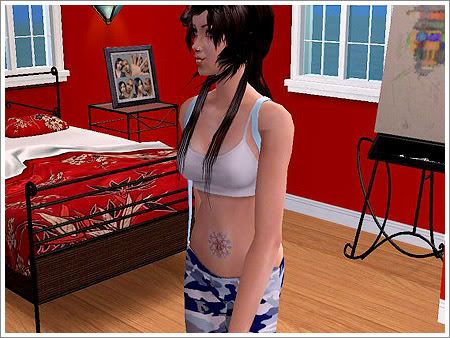 Bad enough to pull off this trainwreck of an outfit? I'm going to say yes just because she'll kick my ass if I don't.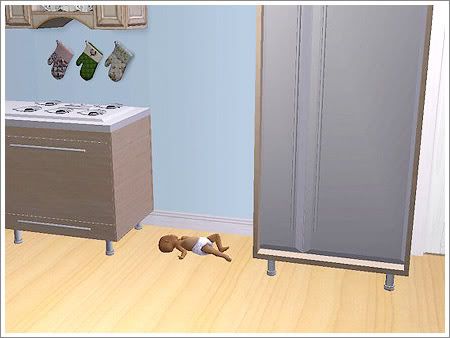 DOES THIS LOOK LIKE A FUCKING BABY CRIB TO YOU PEOPLE!?




Don't worry, Alana. I think Kara's scary, too.




Seriously, now.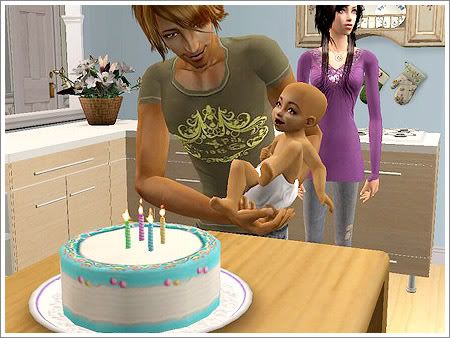 Let's see Alana into toddlerhood, shall we? I'm surprised her parents bothered showing up.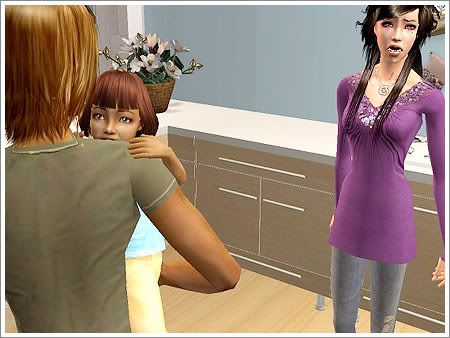 Ava: God damnit, I didn't ask for this shit!




Ava's smoking the crack, because Alana's adorable.




...!?!?!?!?!?!!??!1/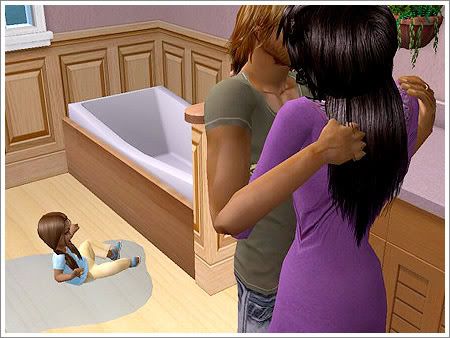 Ahhh. This looks a bit more typical.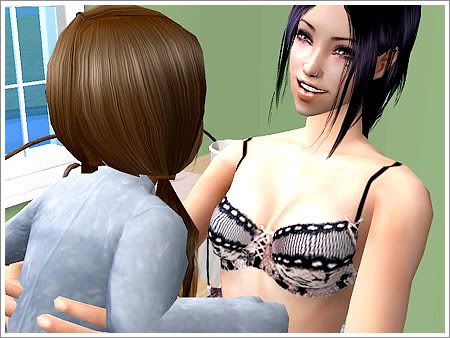 Really, though, once Alana became a toddler, Ava was so into motherhood. She played with her all the time and always let her out of her crib when she woke up.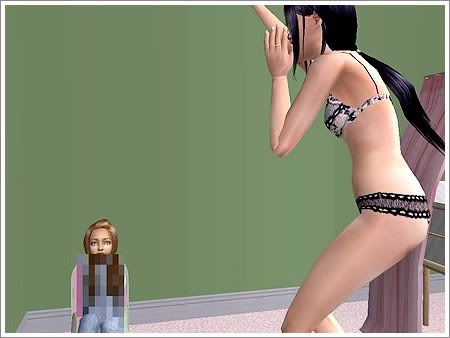 She even cheered her for using the toilet even though she was already potty-trained. Wtf.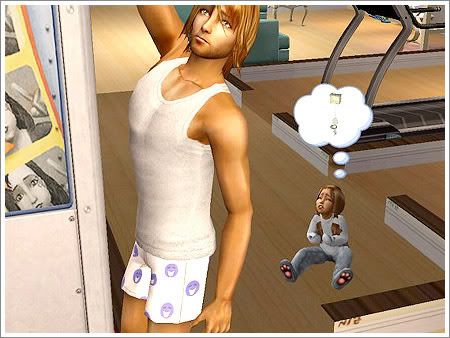 Please tell me that this is not an indication she's taking after her father.




STOP WITH THE GOD DAMN FIRES, YOU SONS OF BITCHES.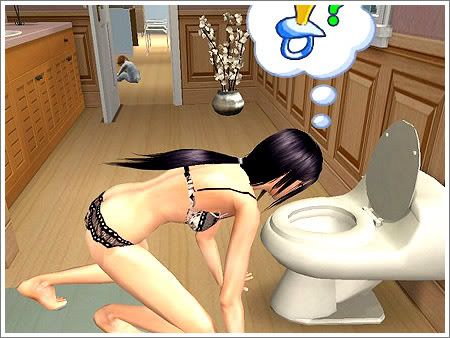 Wait, schhhhhwat? Another case of mysterious pregnancy!? I totally didn't try for a baby!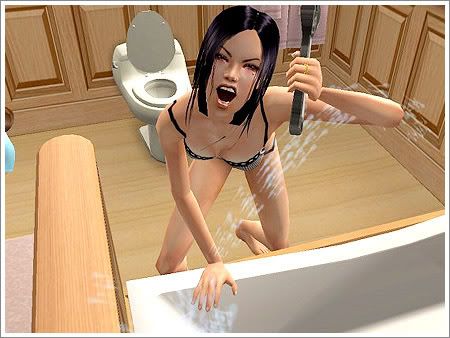 You've got eight mechanical points, babe. It shouldn't be this difficult.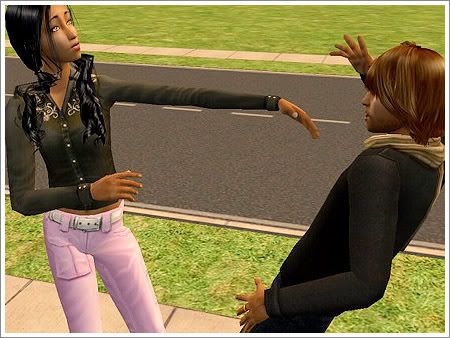 Have I mentioned that Keith is deluded enough to think he's going to have twenty simultaneous lovers? Sorry, Keith, some people have MORALS and don't want to feel up married men.




He won her over in the end, though. Some teenage girl randomly strolls by to approve of infidelity.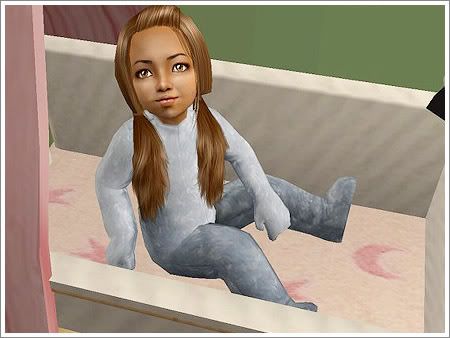 Oh yeah, and he left Alana in her crib ALL DAY while he was wooing that chick. Good thing she's quiet!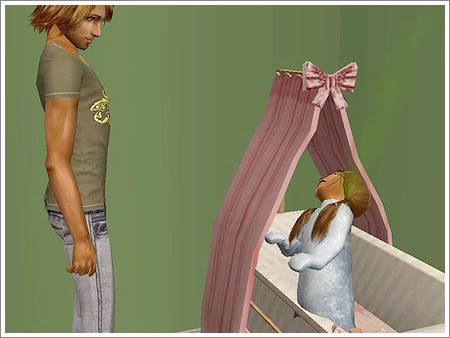 Until she needed a diaper change. Then she started the screaming. And Keith walked in, looked at her...




And left to go make out with some chick. HAHA, SLOPPY SECONDS! Wait until Ava finds out about this shit. I can only imagine the resulting beatdowns.

Anyway, Keith's an awesome parent, right?




Ava immediately went to Alana after coming home from work. It was funny, as soon she she walked into the room Alana stopped crying and smiled. I've never seen that happen before! She's getting better at parenting.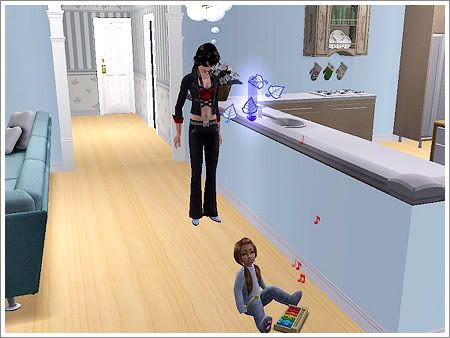 Oh, I'm terribly sorry for purchasing a musical instrument for your child, Miss "ROCK GOD".




You know, I thought Evan would've stopped initiating Punch U with her by now, but no.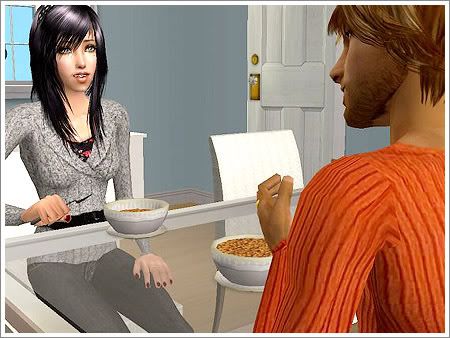 Ava: Hey, I think I just realized that my husband's a loser.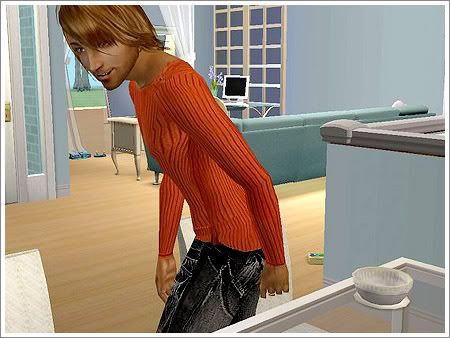 You think?




Ava: GOD FUCKING DAMNIT ALL TO FUCKING HELL. I WISH I WAS WITH THAT FOXY BITCH INSTEAD. DAMN HER OBSESSION WITH MY FATHER.




They have the weirdest relationship ever. Mutual hatred, then Ava's like OH HEY, SHE'S HOT!, then they're mutual bffs, and now they have some kind of demented love triangle with Evan or something. I really don't even know...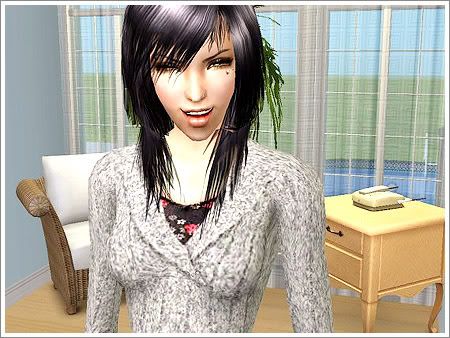 Continuing in the vein of "Weird Shit Ava Randomly Does", I heard this evil little giggle and found her just standing around... making that face...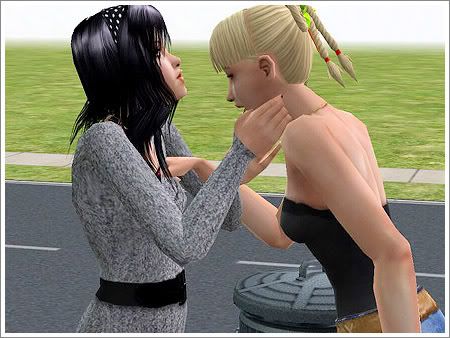 Ava's latest method of kicking ass? Literally choking a bitch.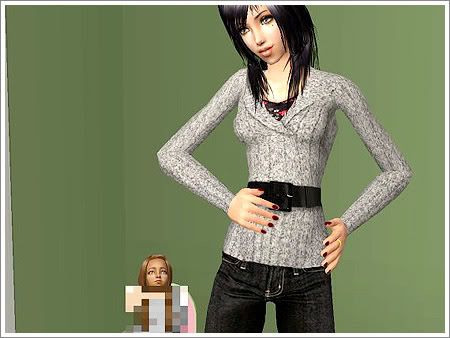 Hey, what was that sound?

I think it was the world exploding from the sheer WHERE THE HELL IS THE REAL AVA AND WHAT HAVE YOU DONE TO HER in this picture.




Ava: Say, "MY MOM WILL KICK YOUR BITCH ASS IF YOU DON'T STEP OFF, PUNK!"




Alana: BEAR
Ava: Close enough!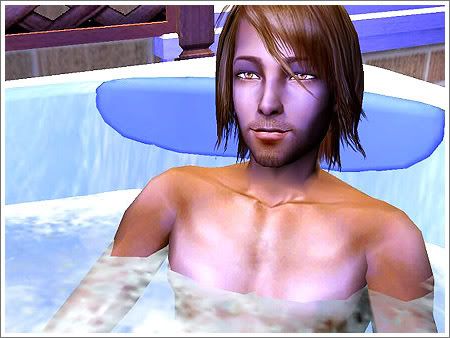 Keith is still useless.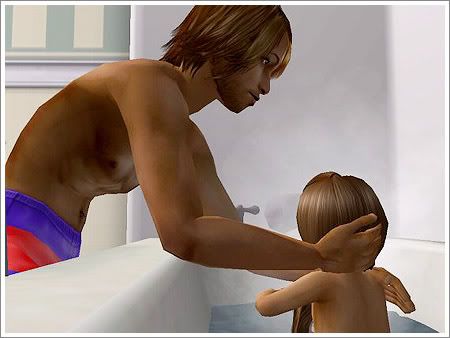 Well, that's a lie. Once he decided to not be useless and actually bathe his kid.

Then he went back to being useless.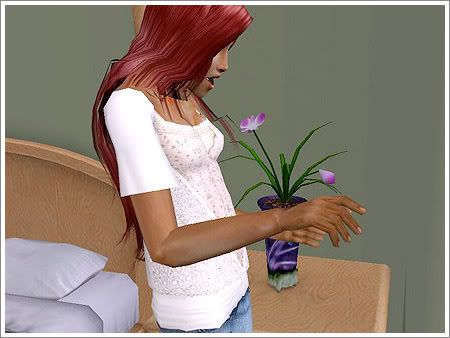 And then KARA was victim of a mysterious pregnancy! I thought Ava was just glitched or something (or, uh, didn't know the meaning of "condom"), but after some investigation, it turns out that when I reinstalled I accidentally put in an old copy of my hacks folder that still had risky WooHoo. I'm a real winner, and now the house is going to be swimming with babies.




Alana plays in the toilet more than any sim toddler I have ever had. The minute her queue's empty she's all OH YES TOILET TIME!!! Luckily, she doesn't have much interest in playing the the puddles.




Ava: LOL THIS IDIOT JUST VENTRILOFARTED ME. NOW I HAVE AN ACTUAL EXCUSE TO BE A BITCH.

'Cause she's not one just because, you know.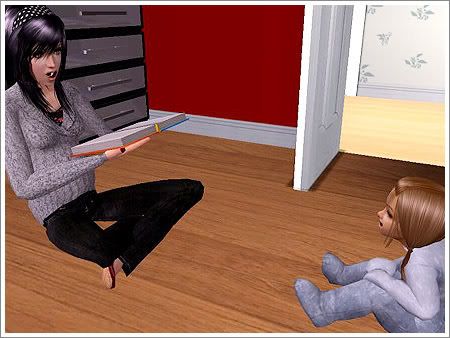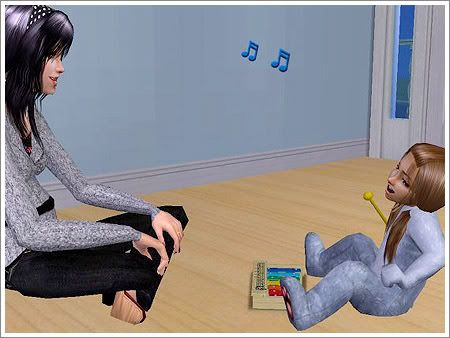 Well, she had a rocky start, but Ava's really become more family-oriented. She loves playing with Alana, and reading to her, and also, she hasn't strayed (or even wanted to) since she got married. It's WEIRD. She also rolled the want to quit her job, which I've only ever had family sims get.




Don't worry, though. She's still a mega-bitch to everyone else.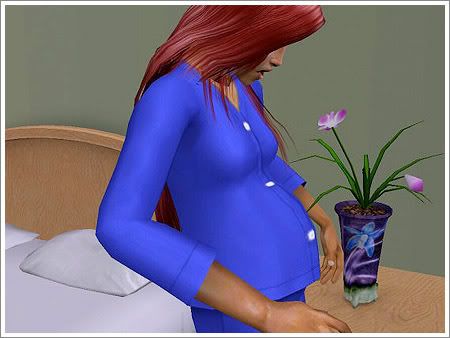 Pop. Sigh.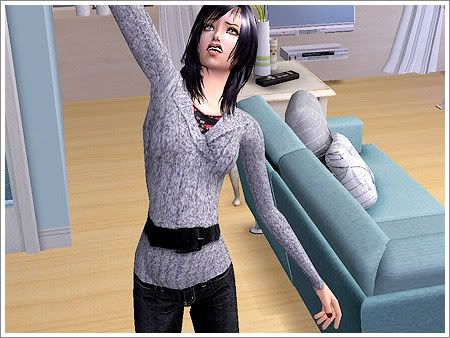 And not two seconds later, Ava goes into labor.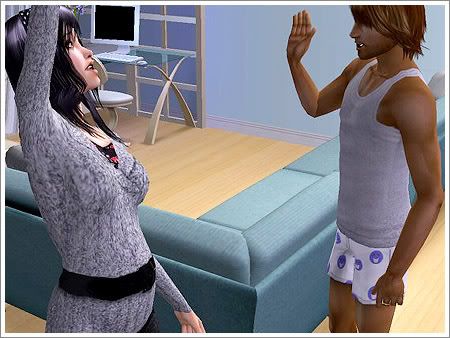 Keith: HEY BABY! What's happening!?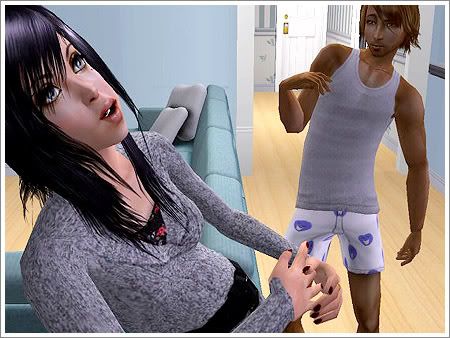 Keith: You look really sexy right now, by the way.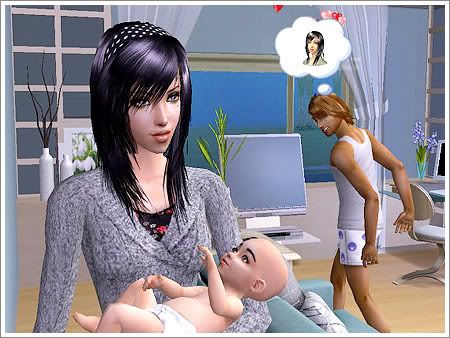 Annnnnd he wanders off to watch TV while admiring Ava's lovely backside because he cares so much that he now has another child.

It's a boy, Rhys, with Ava's hair and skin and Keith's eyes.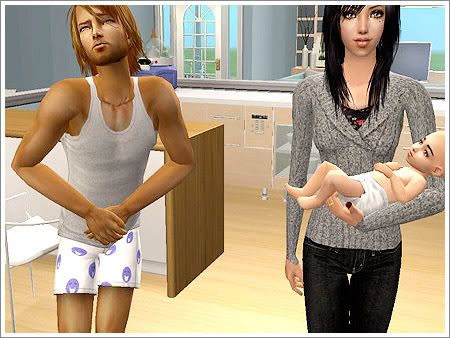 Don't tell me Ava has to potty train her fucking Neanderthal of a husband, too.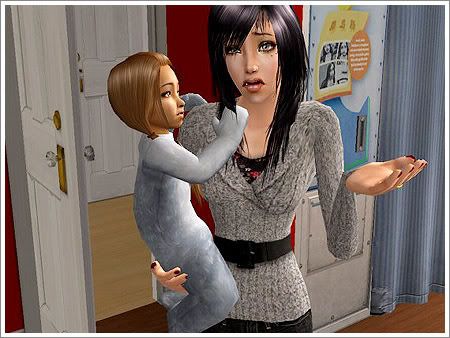 Ava: I didn't ask for another one!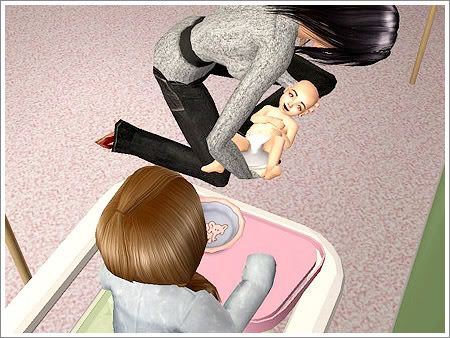 Oh, man, Ava! You were doing so well! Are you reverting back to "shit mother"?

Lol at the baby's face. At least he's not a whining brat, I guess.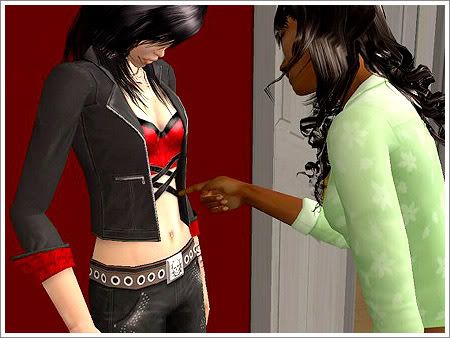 You're messing with the wrong bitch, bitch!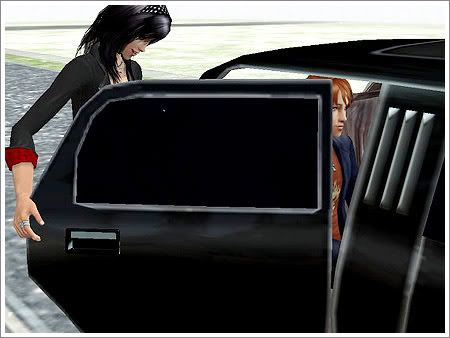 Luckily for that chick, Ava had to go to work. I foresee many a future crank call in her future, however.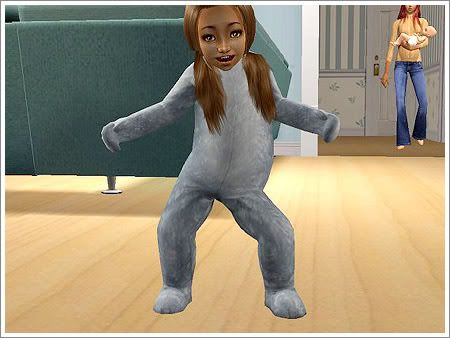 GO SHAWTIE, ITS UR BIRFDAY




Alana has to be one of the prettiest sim kids I've ever had. Wow.




Keith missed her birthday and then strolled in like an hour later scratching himself and looking confused. Charming.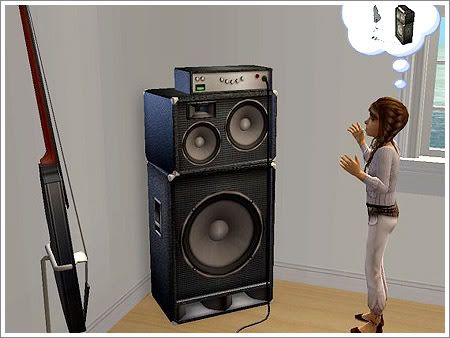 The first thing Alana wanted was a bass. Because she can totally play it.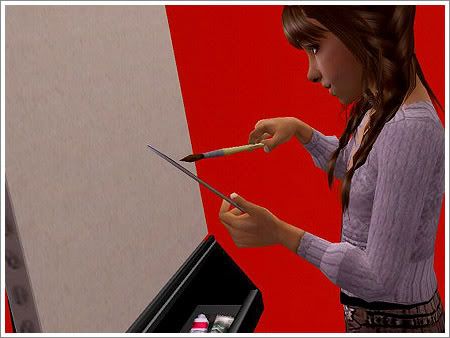 She settled for running off to create masterpieces instead.




Ava got fired. LOL. I guess she doesn't have to quit now, huh?




Alana's there to cheer her up!




Or not.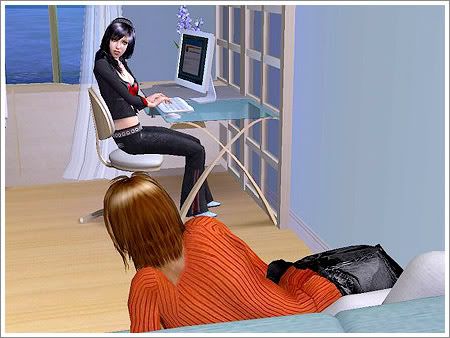 So Ava attempts to find a new job for her new LTW in the slacker career. Which is a career path much more suited to her lazy loser of a husband, yes!?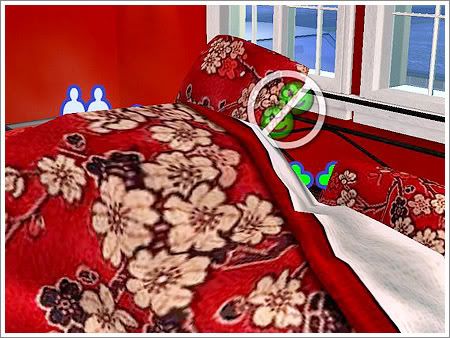 Ava: THAT DOESN'T GO THERE OH MY FUCKING GOD WE'RE SO NOT FRIENDS ANYMORE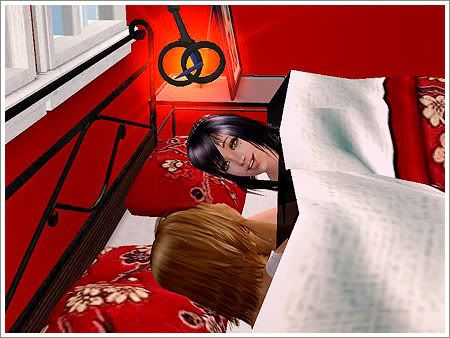 Oh, wait. Which one of Ava's many ex-lovers has been scorned now?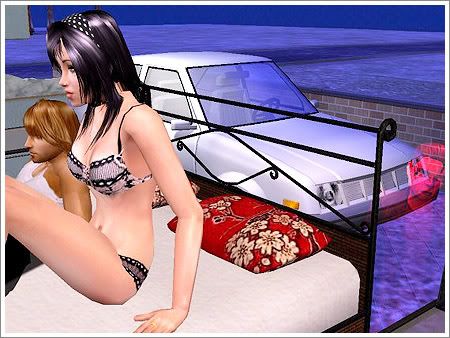 It would be that one. Yes, THAT one. The dead one, in the corner. I don't know, either.

He's just bitter because Ava didn't care when he died.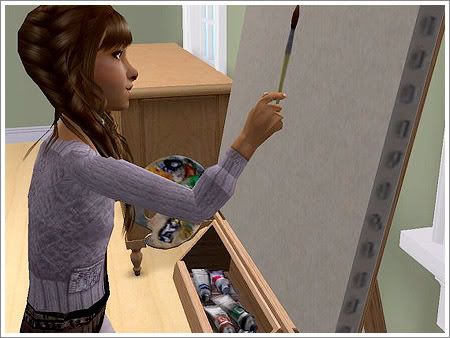 Alana's started painting on every easel in the house. It's all she ever does!




Kara went into labor. Because what we REALLY need is generation three all over again! Seriously, she and Evan should totally have been elders a trillion years ago, but I've been feeding him a lot of elixir so Kara can catch up in age. Sigh.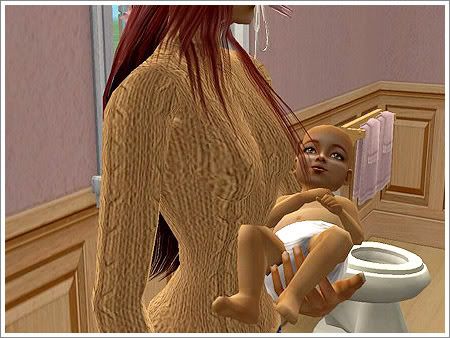 Meet Brianne... er... Lawson. She got Kara's last name. Whoops.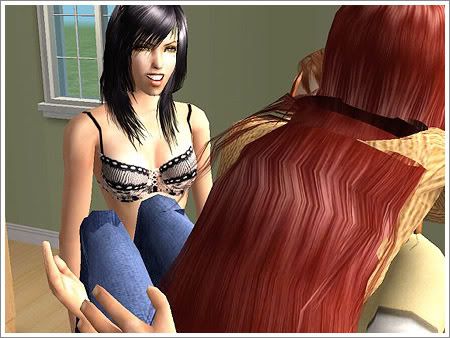 Ava: Why does my dad get to have all the fun with that sexy bitch?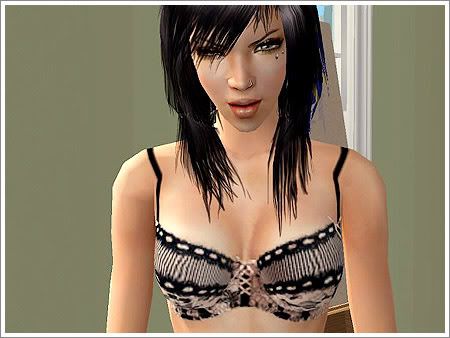 Ooooooh, what's with the pissy face?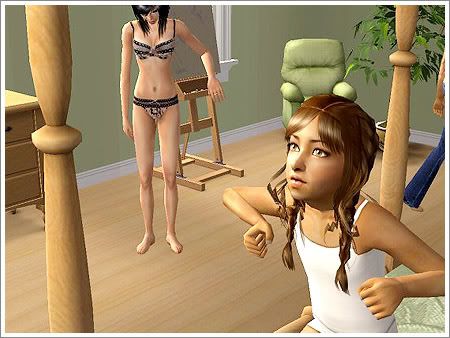 It turns out Ava wasn't exactly pleased with her daughter's newfound love for bouncing on the bed. I've never seen a sim get mad about that before, hahaha.




They're still really close, though, and like to do weird things like dance in their underwear. As opposed to her relationship with Keith. I'm pretty sure she's never even interacted with him. Lol.




It's this, or trying to jump on the bed when Ava's not looking. That's IT.




She's just using the creative gene in a better way. As opposed to Ava and Evan, who are so.fucking.annoying. They play those instruments all the damn time, and whenever I try to sell them or hide them in an inventory, they both immediately roll wants to buy them back that never go away. UGH.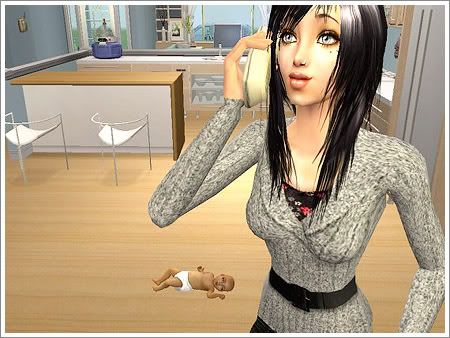 Ever since she started college, Ava's wanted to call her brother every single day. It creeps me out a little, considering her bizarre fascination with giving him backrubs...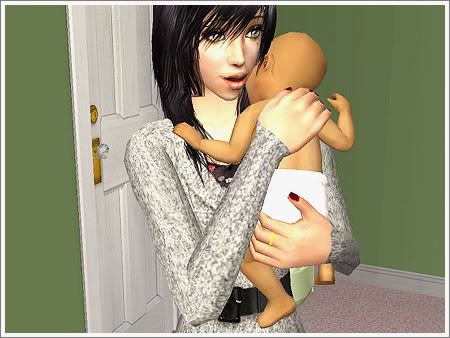 Lol, so Brianne's Ava's half-sister. Ava's what, 27? That's quite the age difference, wouldn't you say?




Keith: SO THAT WAS SOME AWESOME SEX LAST NIGHT
Ava: ohmyfuckinggod
Alana: ...?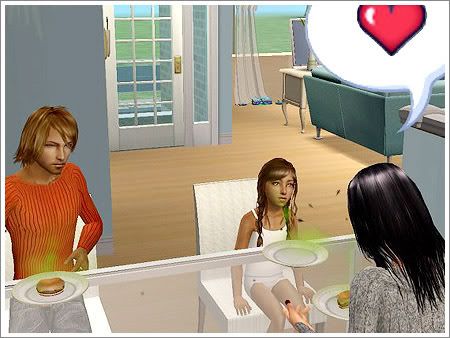 Ava: When a mommy and daddy love each other very much--
Keith: THAT'S A LIE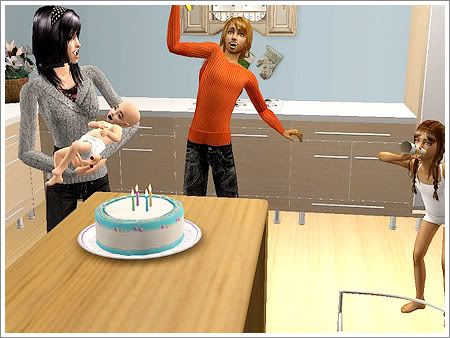 And we'll interrupt the birds and the bees for a birthday fiesta for Rhys.




GAHHHHHHHH DFK;DFKAZ;DKFA;'KFALDJFOSA;P I'm dead from the cute. Also, he looks a little more like Ava than his big sister does, which is definitely a bonus because she's almost a Keith clone and I'll be damned if Ava's beautiful genetics are stopping here!




Also, he gets 10,000 bonus points for not being a stupid obnoxious little brat even though he was in the red.


---




Well, between Alana and Rhys, I'm gonna say that Ava and Keith made some damn fine looking children.

...Which means they have a very good chance of becoming very hideous adults. Let's pray, guys! I like both of them a lot already, Alana because she's pretty, and Rhys because he has a very extreme personality and I can't wait to see how that unfolds.

I really didn't want Evan and Kara having kids so fucking late... lol. Brianne can't even do anything since the generation three heir has done been chosen. And not to mention the fact that she's YOUNGER than the kids a generation ahead of her. And she's their AUNT. Lol wtf. Risky woohoo: don't let it happen to you!

And I think Ava's become so family Sim-ish because she's knocked out all of the big romance wants... x loves, x make-outs, x WooHoos so she just likes to teach her kids stuff now. Funny how some romance sims lose their wildness.