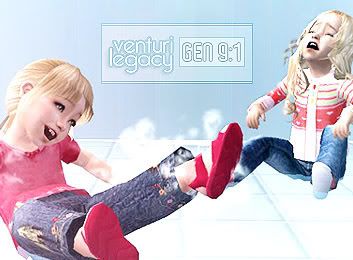 Geneva, bless her crazy-ass heart, has all of the sudden decided she wants to be a romance sim and is always rolling wants to screw all over the house.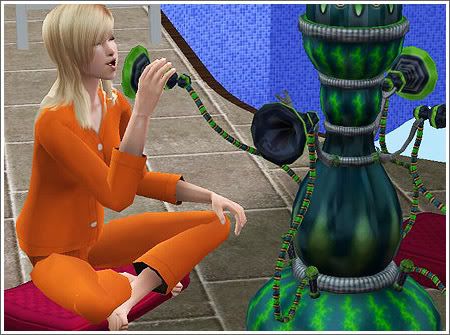 I'm pretty sure that's NOT doing any good to your already fragile and genetically screwed unborn child, Claire. Say no to the bubble bong!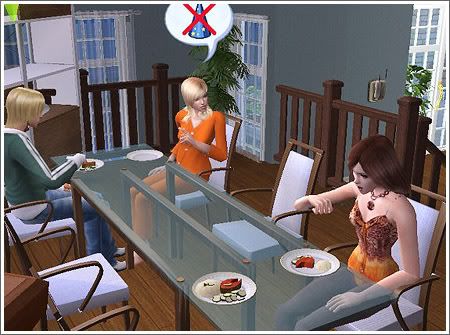 MAYBE THIS IS WHY GENEVA AND CLAIRE WERE ALL PISSED AT EACH OTHER. How could you say that, Claire!?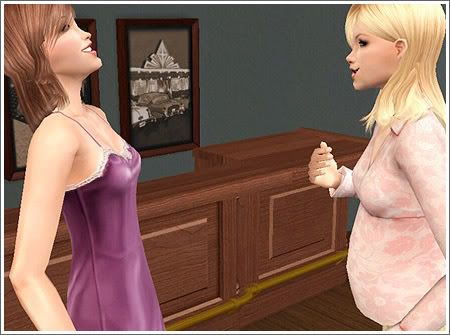 Really, though, they've totally moved on and they are all the sudden good friends. Must have been all that hanging out they did at Hunter's "parties". You know, the ones with his mom and girlfriend and that little girl.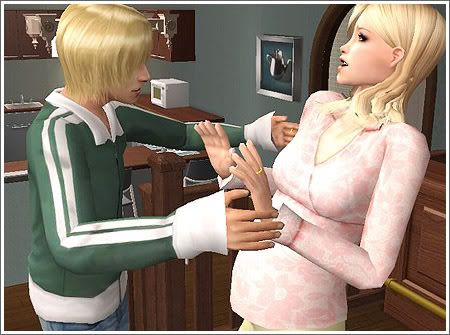 Addison and Claire, not so much. She doesn't like him very much, and she's always wandering about doing the barf-face at him, haha.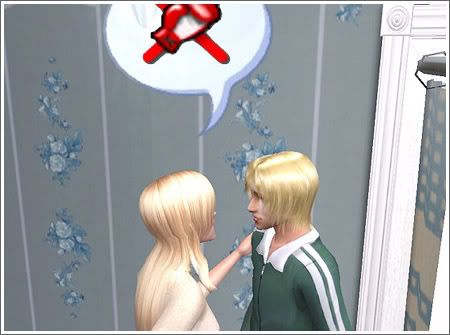 I'm pretty sure that never happened, hon.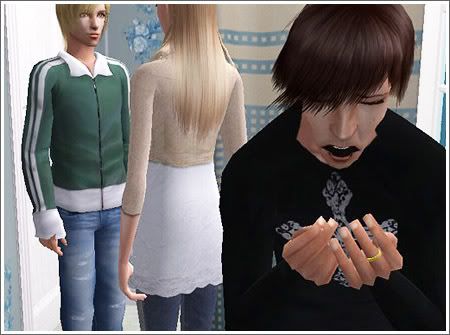 ...I don't even know what the fuck his problem is anymore.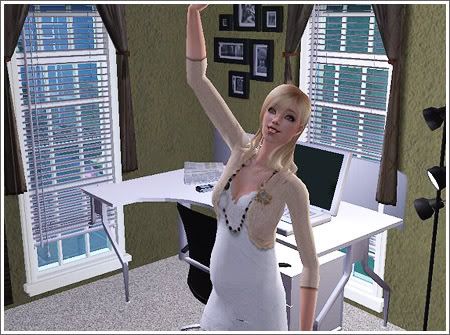 Ooooh, why does Claire have such a gargantuan grin on her face? That's right: BABIES!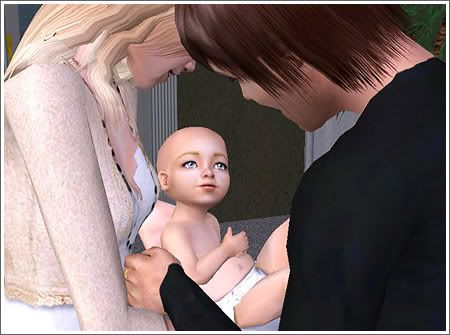 It's a girl, Camilla, with Claire's hair and eyes and Hunter's skin.




Aww, baby's first sight of the world. AWESOME, DUDE. Way to corrupt your grandchild.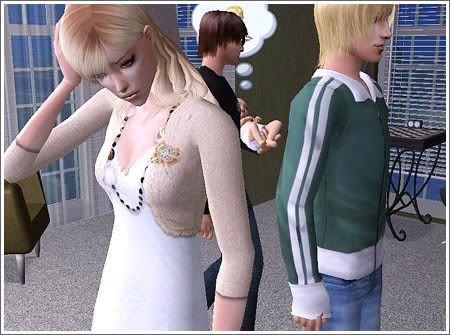 Apparently, motherhood is not as much fun as Claire thought it would be. STILL WANTIN' THOSE TEN KIDS, BITCH?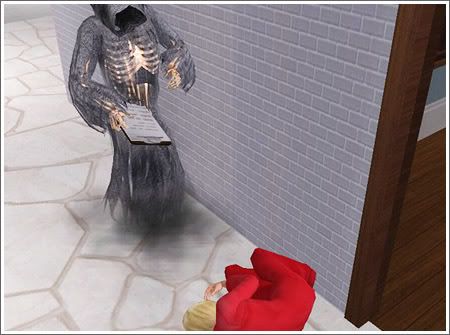 I have no clue how this happened! My guess would be ghosts. Anyway, I didn't notice he was dead for a long time, because Camilla was screaming her head off and I was trying to get Claire to shut her up, but she kept canceling my actions to do something with Addison, and I was like GOD ADDISON LEAVE HER ALONE *cancel, cancel, cancel* before I realized that she was trying to cry over him, at which point I went "OH SHIT" and sho 'nuf, his picture's gone off the sidebar HELLO HUGE RUN-ON SENTENCE.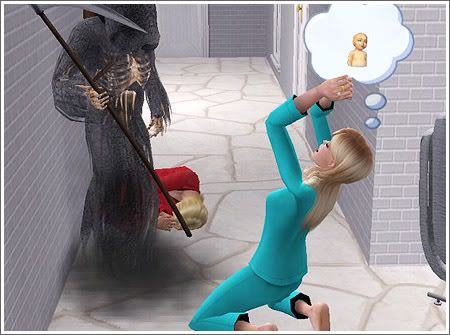 So, Claire was the only one up and thus attempted to plead for his life. For Camilla's sake, I suppose. C'MON GRIM, HOW CAN YOU LEAVE THE POOR LITTLE GIRL GRANDFATHER-LESS?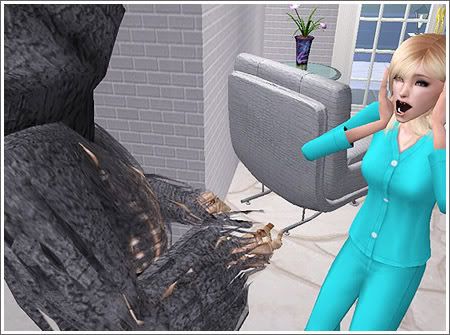 OHSNAP. D: D: GenevapleasestayinbedforeversoIdon'thavetodealwithyourdepressedself.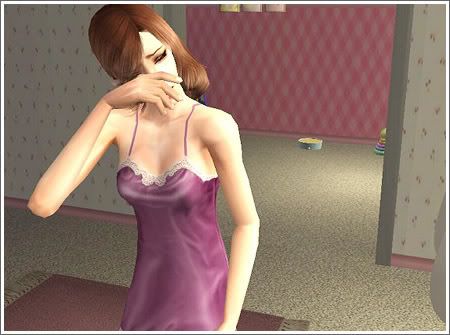 Unfortunately, Geneva did wake up and boy was she depressed.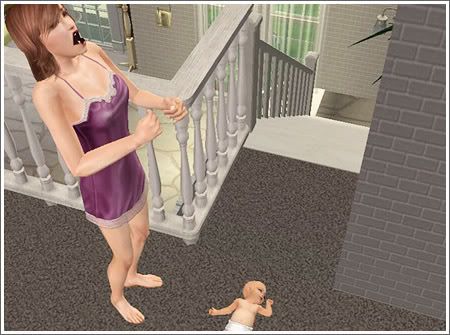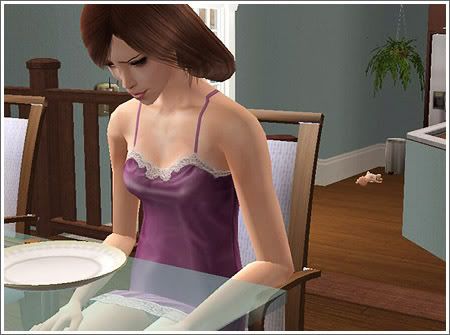 Claire and Hunter scampered off to work before I could have them call in sick, so Geneva ended up having to stay home and take care of the baby (READ: canceling everything I told her to do so she could cry while leaving the child on the floor).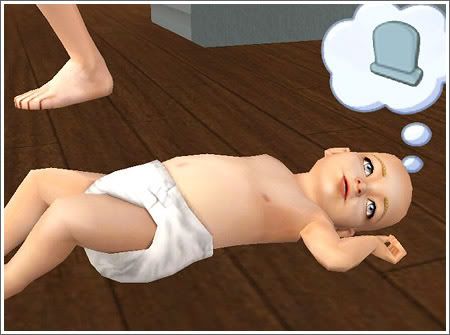 STOP IT. YOU'RE NOT ALLOWED TO USE THAT AS AN EXCUSE TO BECOME A DEMON CHILD, THANKS.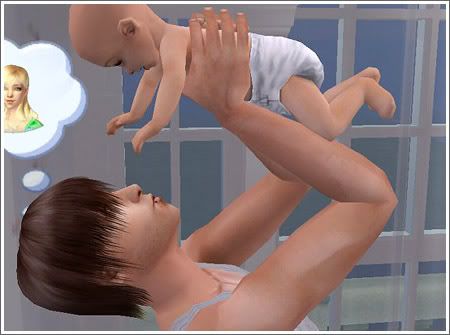 Luckily, Camilla gets plenty of attention from Hunter and Claire, because it turns out that they are both baby-lovers. It figures. I mean, Claire is just flipping child-crazed and I think Hunter can relate to small children a lot.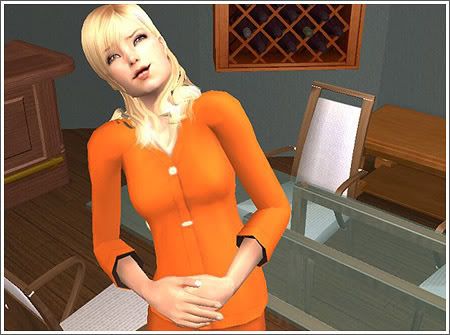 Claire got pregnant again, and this pregnancy was NOT COOL. She was totally fine with Camilla, didn't get sick once or need any extra attention, but this time it's barfbarfbarf and a ton of Geneva-style narcolepsy.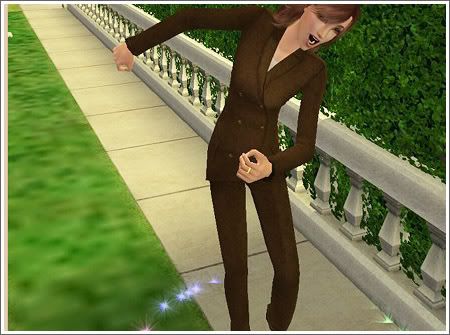 Speaking of Geneva, I finally let her get old, seeing as how she doesn't need to wait for Addison to catch up anymore. Because he's dead, and all.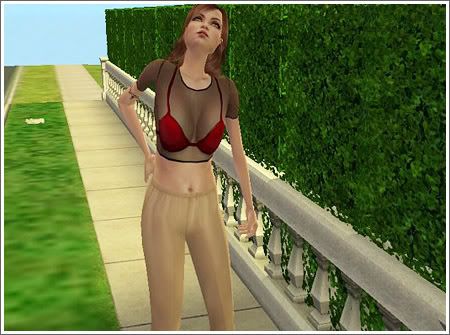 Only you, babe. Only you.




So Geneva bought some clothes that were a bit less menopausal hooker and she's lookin' good.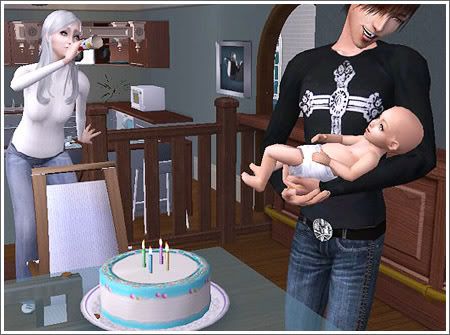 And we've got another birthday!




She's adorable, but definitely favors Claire from what I can see. Hmm.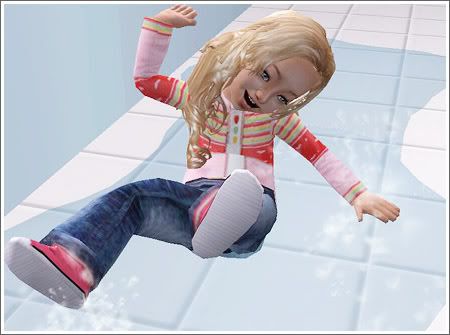 That is NOT how you get on the list of potential heirs, babygirl.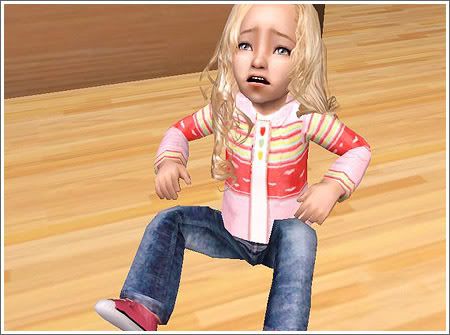 Ooooooh boy, is Camilla a brat. She likes to wander around the house crying and waking everyone up for no good reason. GEE, I WONDER WHERE SHE GOT THAT FROM.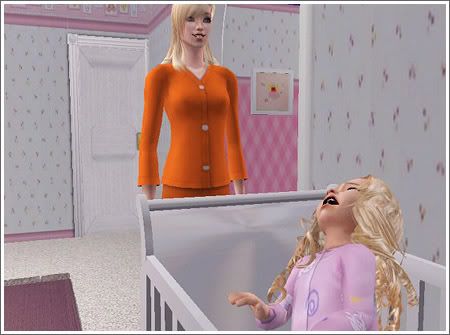 Well, I'm glad one of us enjoys screaming brats, Claire.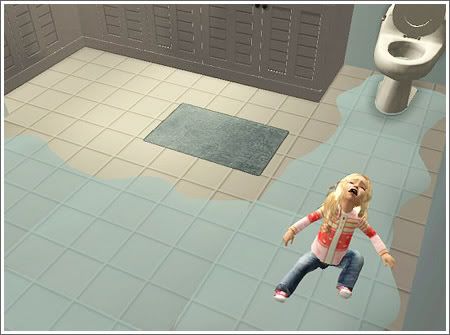 HOW DOES ONE CHILD MAKE THIS MUCH FUCKING MESS!?!? And shut your trap, little girl. D: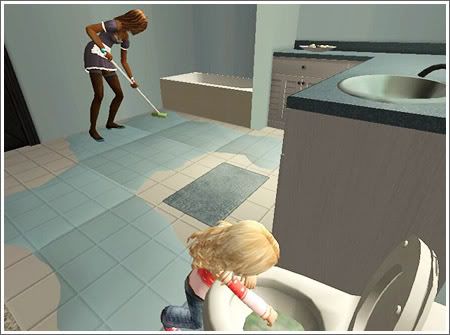 LOL, good luck, maid.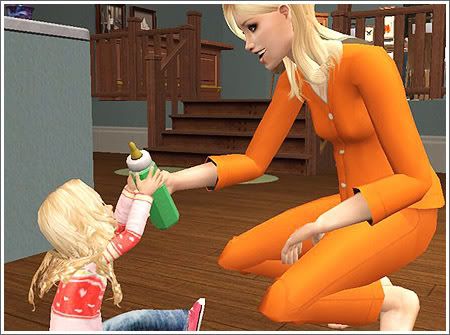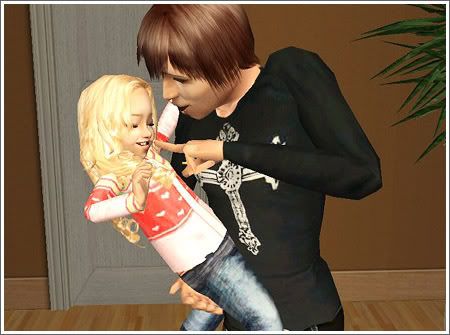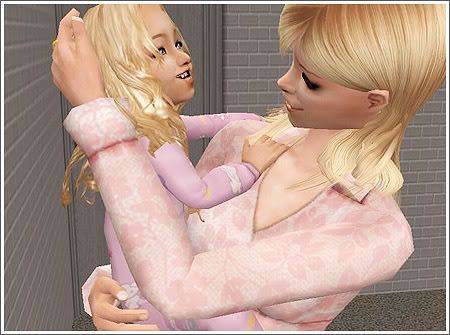 Hunter and Claire are actually both very good parents who play with their daughter and feed her when necessary and don't do stupid ridiculous things like give her seventeen baths in a row and then try to feed her repeatedly when her diaper needs to be changed.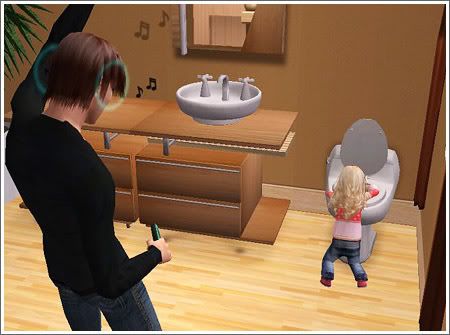 Though I really wish they would KEEP HER OUT OF THE FUCKING TOILET BECAUSE SHE TOTALLY HAS AN ENTIRE ROOM FULL OF TOYS THAT SHE HAS NEVER EVEN TOUCHED.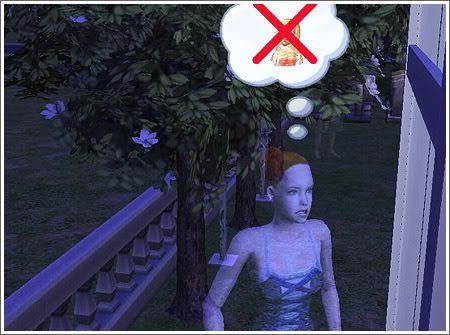 The ghosts are plotting to take her out next. I don't blame them.




Well, that's one way to keep yourself entertained on those cold, lonely nights when your wife is mothering a bratty little girl and possibly washing toilet overflow puddles out of the carpets and walls and every-fucking-thing else in the house.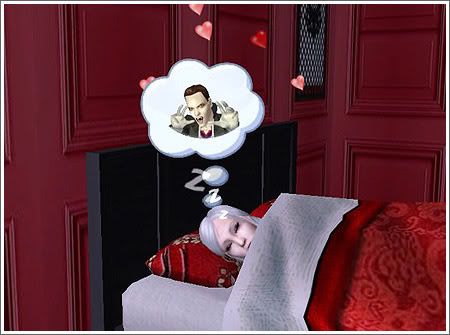 Geneva's having some interesting dreams of her own! Hmm. Maybe now that she's single, and stuff, she can dial up Old Vampy for a booty call. She is a pretty foxy old lady, after all.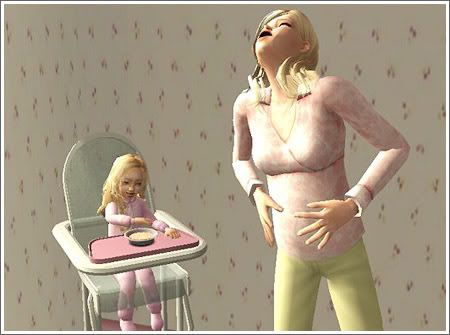 Baby time again!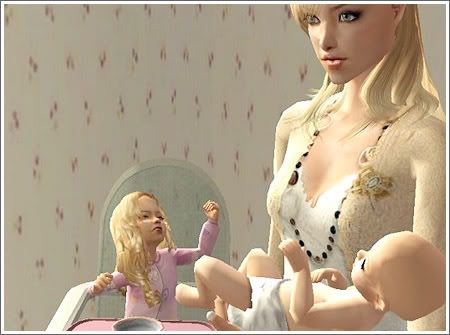 Hey there, Camilla, mommy's kind of busy GIVING BIRTH so if you would kindly STFU I would appreciate it very much.

It's another girl, Hailey, with Claire's hair and skin and Hunter's eyes.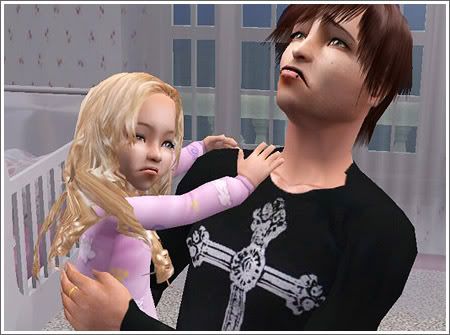 Aww, what's the matter, emo kid? Did you get stuck with a whiny little Satan Spawn?




Haaaaaaa haaa haaaa. Karma's a bitch.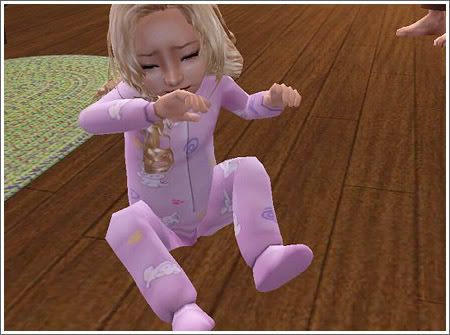 Here's Camilla crying because she saw the microwave move because of ghosts, or something. I've never seen a toddler cry over ghosts! Aww.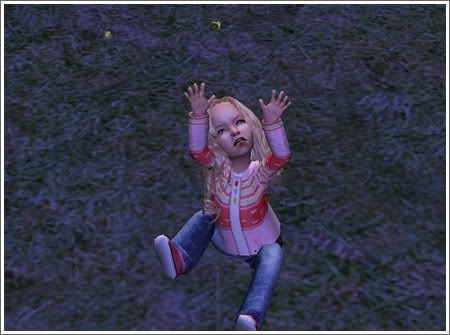 And she also taught me that toddlers will try to catch fireflies! Cute!

(Camilla's toddlerhood was full of revelations for me! Ghosts, bug-catching, allergies, toddler fury...)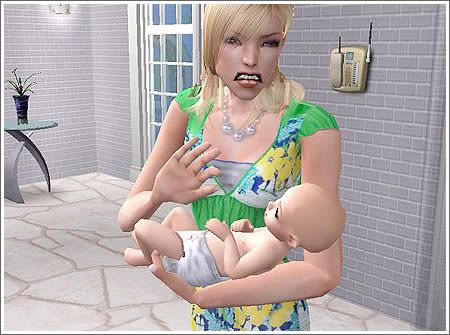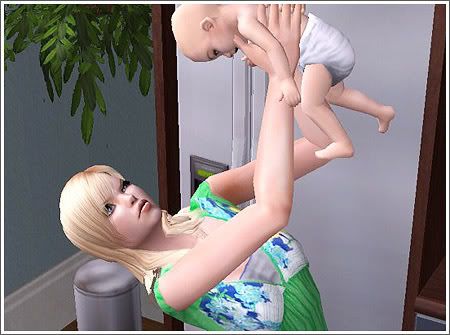 hai Claire. How's life? Still wanting 10 kids?




She walks around like this a lot. I'd say she takes after her father in temperament.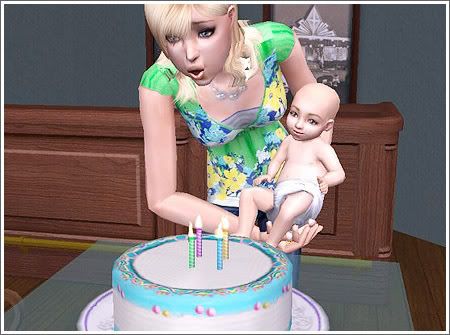 Hailey's birthday!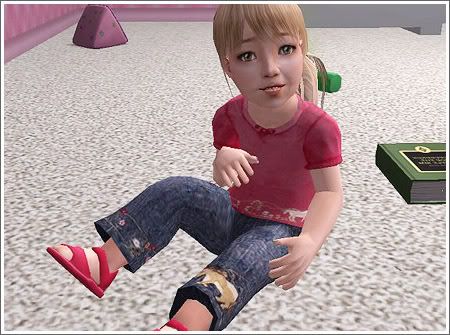 Whoa, back up. You's awkward, little girl.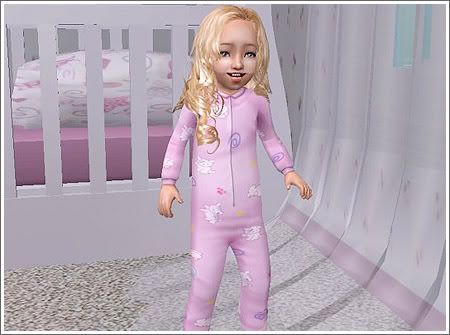 Camilla, the little brat, mastered the art of sneaking out of her crib in the middle of the night!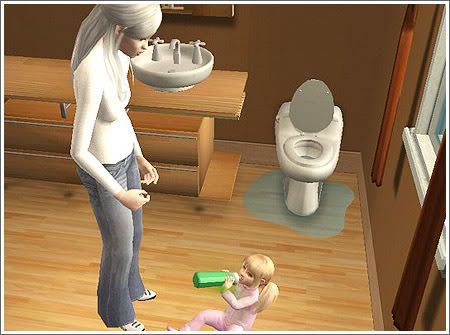 Geneva here is proving she is just as incompetent in caring for others as she is at caring for herself. She managed to feed Hailey a rotten bottle STRAIGHT FROM THE FRIDGE. Wtf?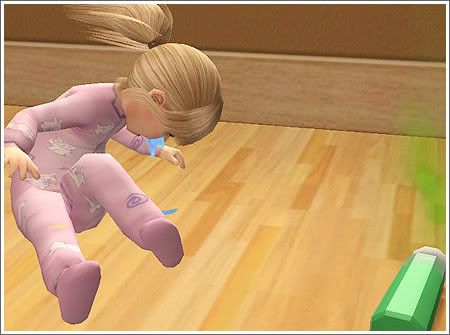 Grandmother of the Year, anyone?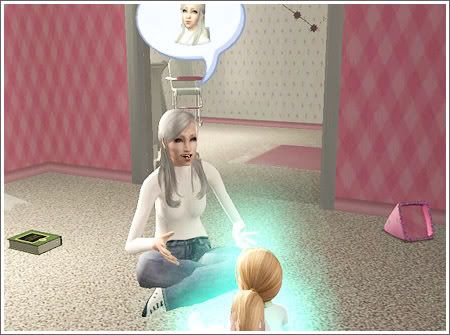 Pshh. Stop it. Make your descendants emulate someone who actually has some sort of brain function going on more than 7% of the time.




Okay, even though she is bratty, she's really cute in her brattiness.




...Sometimes.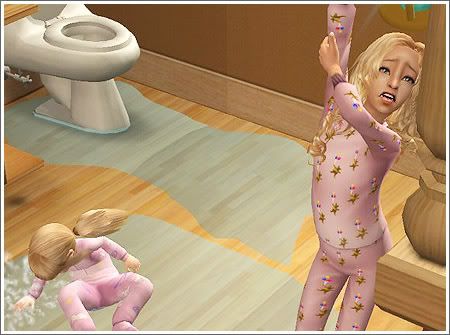 Whoa, up grows the Camilla.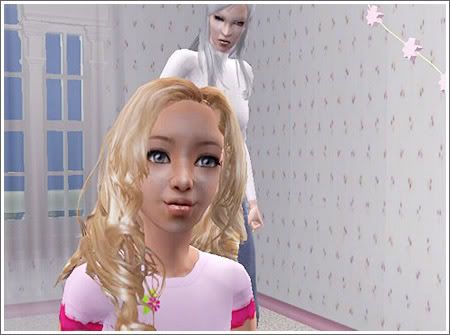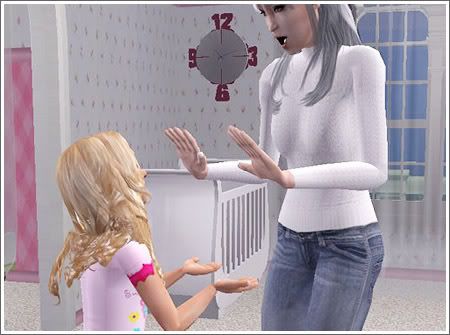 Geneva is really pissed off at Camilla for some reason and their relationship sucks. Lol.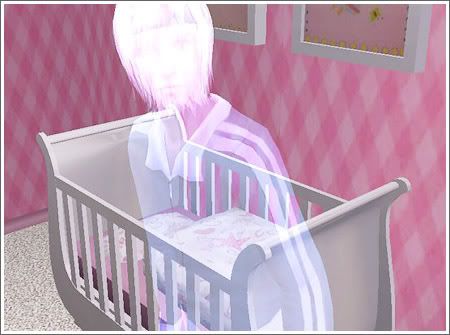 So Addison's ghost came a-haunting that night, and apparently he died of starvation (white ghost) and not ghosts as I originally presumed. What a dumbass!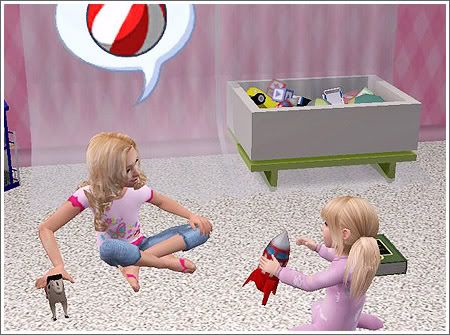 Hailey and Camilla are actually really close and affectionate, which is a welcome change after last generation!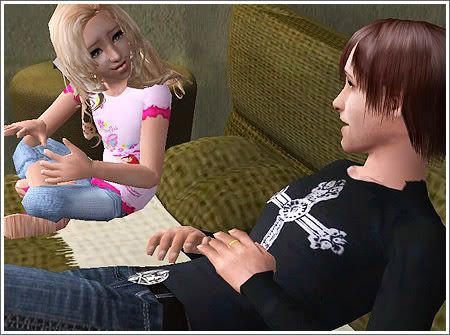 Hunter's her favorite family member, though. I find them hanging out on the bed and chatting all the time. Which is kind of weird 'cause there's no TV or radio in there and they'll just sit there for hours and talk, but okay.




Aww, and when she gets older he can even teach her the art of cosmetics! He's had lots of practice with that, you know.



I'm pretty sure it won't be necessary for your husband to "call you", Claire.




Okay. This is kind of getting weird.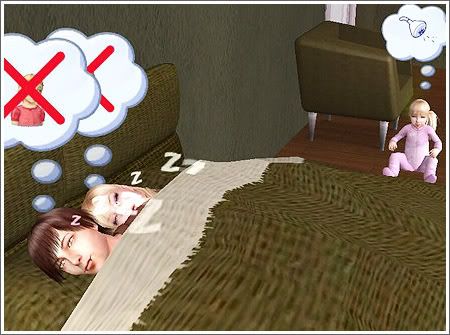 Thank you for feeding your granddaughters rotten bottles, Geneva. *headdesk*




:O COULD IT BE!?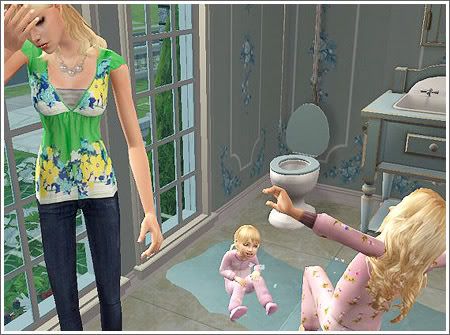 Ouch. Are you having second thoughts about children yet, Claire?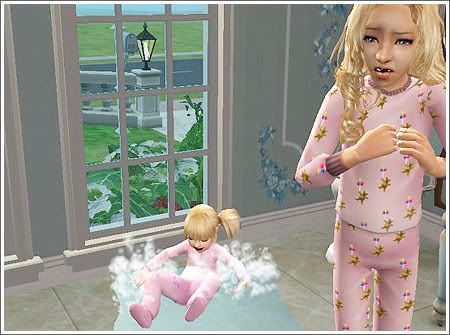 YES, YOU, YOU LITTLE BRAT. STOP SULKING AND CLEAN IT UP.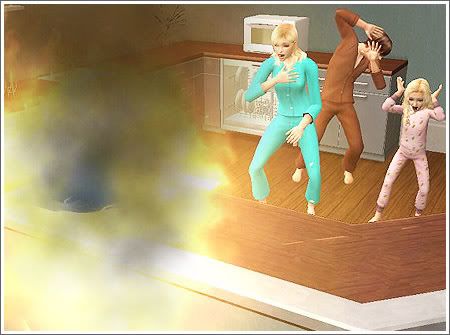 Claire was too busy playing with the baby to remember her toaster pastry. A+.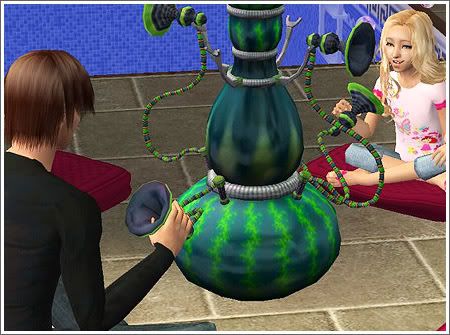 And look what I found Camilla and Hunter doing! For shame, Hunter.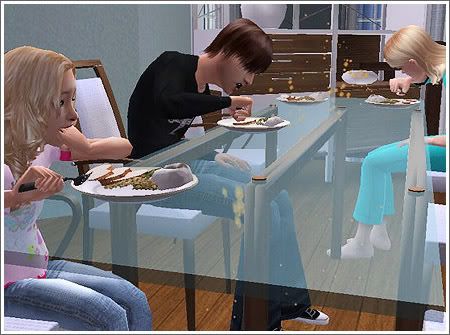 EVERY SINGLE ONE OF THEM is absolutely disgusting. I think they all have like, one neat point. The house gets so dirty that the maid never leaves early, she's always there until like 6:00. Poor Geneva the neat sim is freaking out.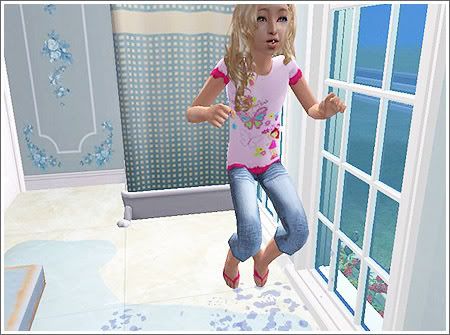 I am really trying to tolerate this. But OH MY GOD. She messes up every single bathroom on a daily basis! Her and Hailey are like working as a team to flood the entire house. Hailey digs huge puddles from the toilet and Camilla spreads them everywhere. IT IS IMPOSSIBLE TO STOP THEM!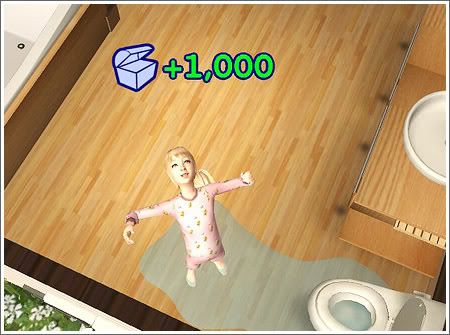 Bad little children who happen to be digging in toilets when it's birthday time GET NO DAMN CAKE, Hailey.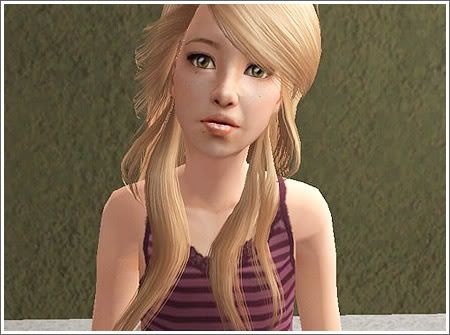 She looks almost exactly like Hunter. There's something different there, but I can't seem to figure out what it is.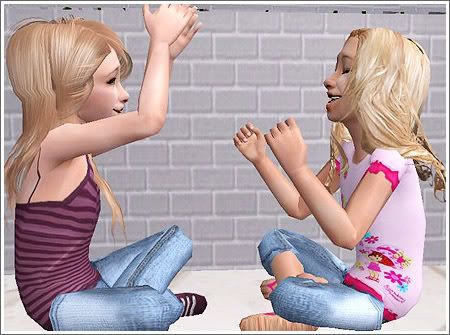 Camilla's all excited because they're the same age again.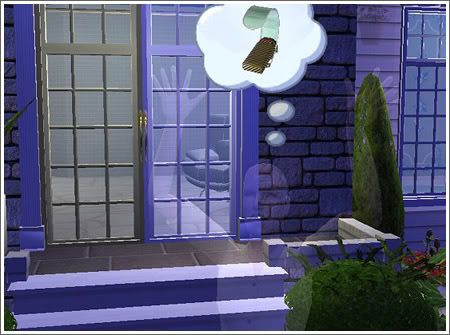 Man Skank always shows up to yell at me. Not for deleting HIS bed. For deleting Geneva's childhood bed. What the fuck.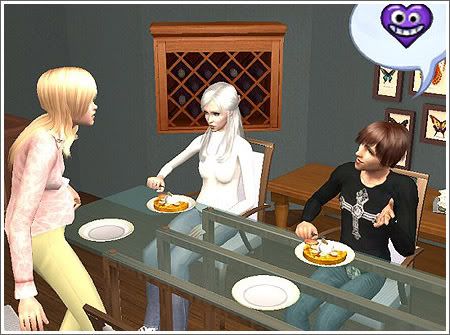 That's a really great topic to discuss with your lover while your mother is sitting RIGHT THERE. Claire obviously agrees.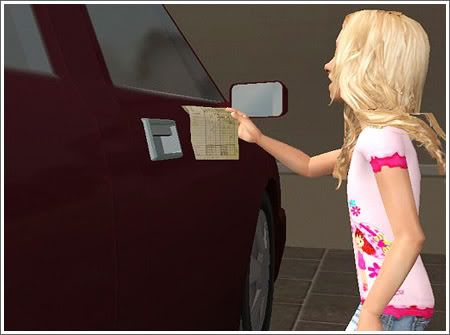 Speaking of awkward, here's Camilla being like "HEY MOM AND DAD I GOT AN A!!!!" while I'm sure you can guess what said parents were doing in the car.




Baby #3 is on the way!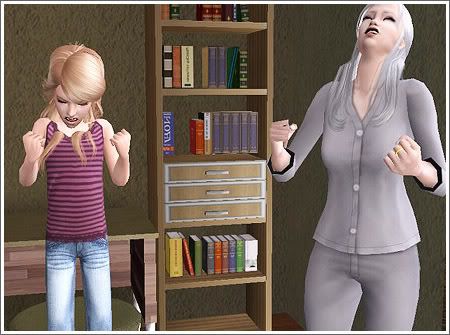 Geneva and Hailey (who are halfway across the house from her, by the way) don't seem very pleased.




It's a boy, Tristan, with the same coloring as Hailey.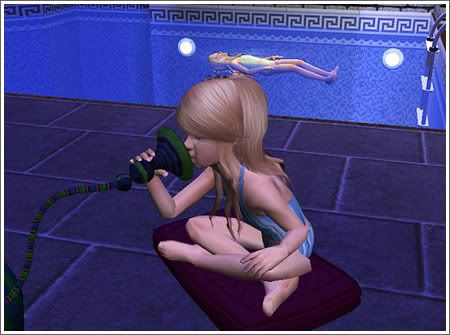 Gee, Hunter and Claire. I'm glad you guys pay so much attention to what your kids are doing at 3:00 AM!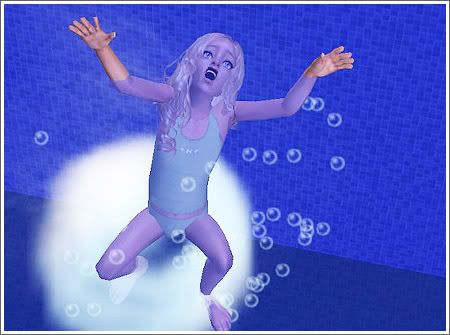 Okay, first of all:

I DID NOT FUCKING KNOW THAT KIDS COULD DIE!

Second of all:

I would have been watching her energy had I known that! D: Her energy bottomed out because Hailey was using the ladder when she tried to get out, so she got distracted by bitching and... drowned.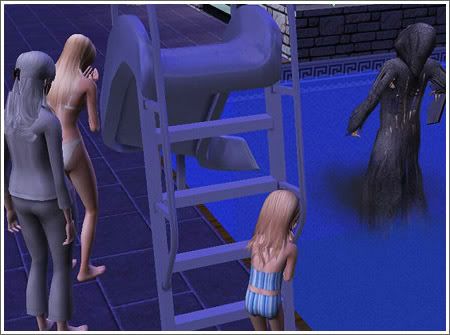 Worst of all, the damn grim reaper was unselectable for some reason (because he's on the water, perhaps?)! I kept clicking and clicking and clicking but no option to plead would come up for anyone in the family.

Geneva wasn't even crying. She's still pissed off at Camilla.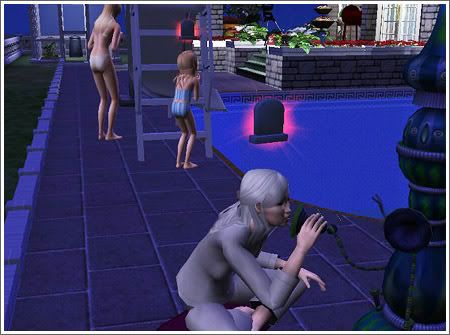 Geneva, that is COLD. I know you didn't like her much, but geez! You crotchety old bitch! This is pretty uncharacteristic of super-nice Geneva, but I really shouldn't be surprised by anything the psycho does anymore.

Claire joined her after she had finished crying a bit, by the way.




Hunter was sleeping during the ordeal, but he woke up and cried for an insane long time. Except I can't make any emo jokes about, you know, his daughter dying, because I'm just not that cruel.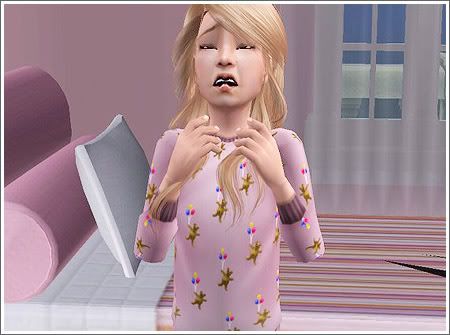 Hailey wouldn't stay asleep, either.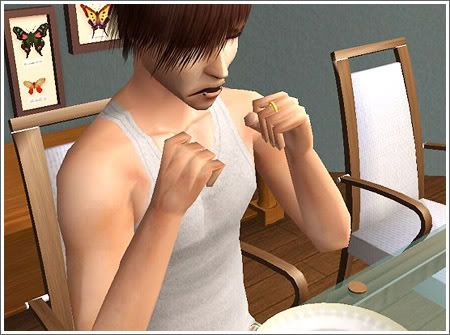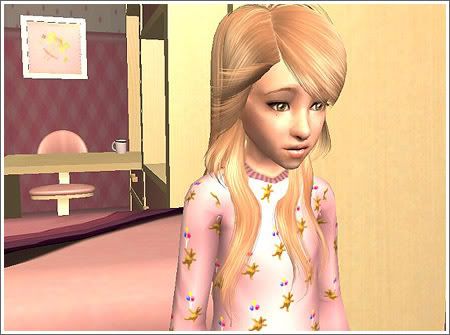 They were both really close to Camilla and chose to show their grief in a more conventional way than bubble-bongers Geneva and Claire. :(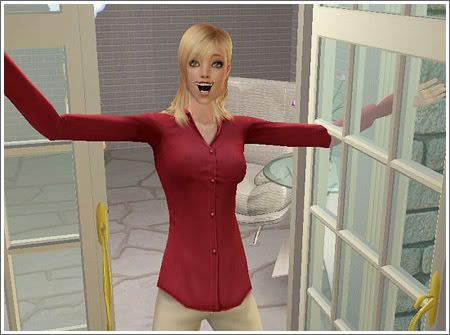 Hey, Claire. YOUR KID JUST FUCKING DIED AND YOU GOT DEMOTED. Why are you doing that?




She has a constant fear of diaper-changing. What kind of family sim is she?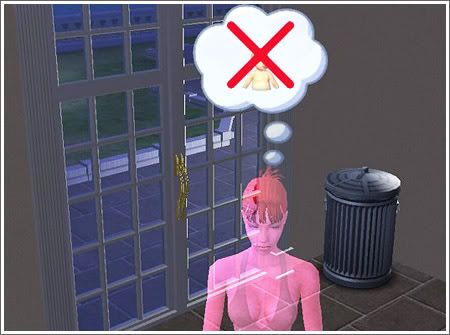 The ghosts are plotting to take out all of the kids... D:




Oh yeah?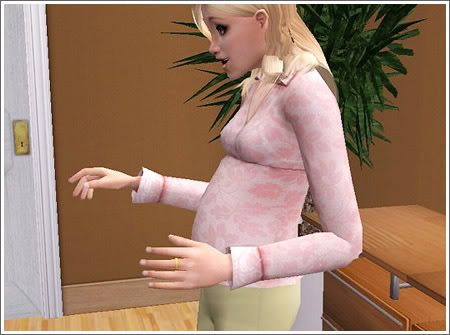 Yeah.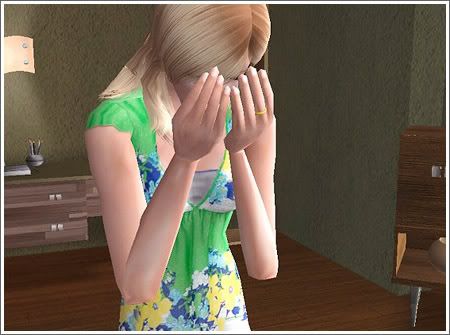 She proceeded to have a miscarriage about two minutes later.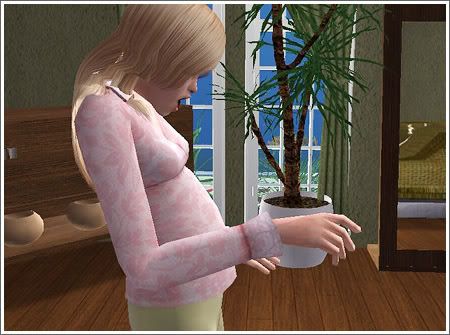 So I made her pregnant again because the InTeen is stupid and I really need to install that NO MISCARRIAGE thingy.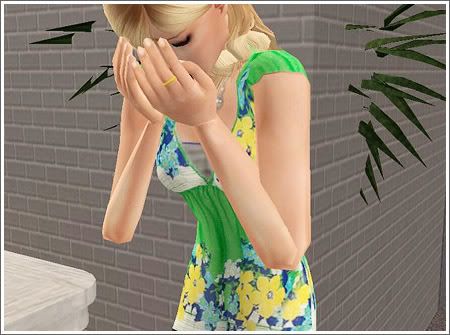 And then two more minutes later she miscarries AGAIN. *headdesk*




I got a pop-up yelling at me about Hailey's "horrible" grades: she had a C+! That is not horrible. Give the kid a break, her sister just died!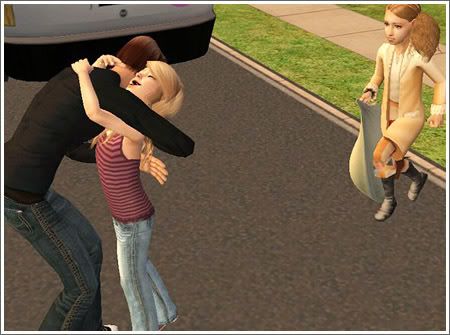 LOL at random little girl stalking Hailey around with a pillow.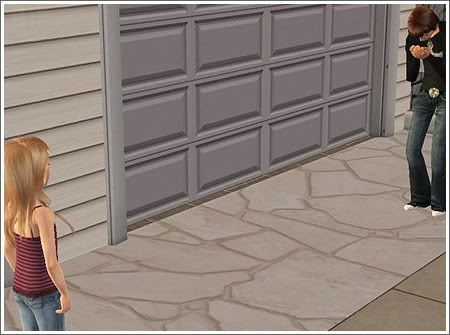 Hailey kept trying to play with Hunter, but he was too busy bawling his eyes out about something. I don't know if he was still upset about Camilla (which is understandable) or he's depressed because he got a demotion.

But if it's the demotion... what the hell, Hunter. Get over it!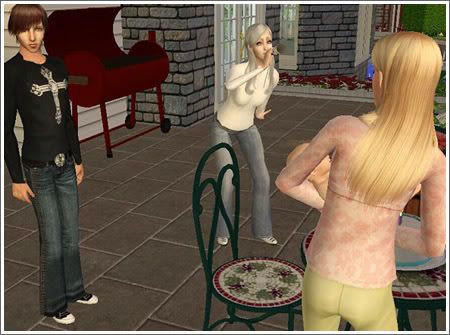 And we'll end with a birthday:




Very cute.

- - - - - - - - - - - - - - - - -

Seriously. I did NOT know that kids could die! I could have sworn that they couldn't, but apparently they just can't die of certain things. Gah! Worst of all, I was going to revive Camilla but I realized I forgot to move the resurrection thingy into someone's inventory before switching houses! I feel really harsh just leaving her dead, but a) it's a pain in the ass to get the resurrector back and b) it's just not as fun when you can revive whoever you want at whim. :/ I'm debating about bringing her back.